Faculty of Medicine
February 11, 2022
2023-05-17 14:21
Faculty of Medicine
About the Faculty

Dean's welcome letter

Normative Base

Educational Programs

Academic Staff

Research

Timetable

Clinical bases

Dental Clinic

Partners
The goal of the Faculty is to give students the knowledge-oriented to humanist ideals adequate to the international medical standards, developing clinical skills, use of scientific principles, methods, and knowledge of biomedicine in medical practice and research, acquisition of theories, concepts, and methods of disease diagnostics and basic principles of treatment and prophylaxis, development of clinical thinking, realizing the necessity of constantly renewed knowledge and incessant professional development, developing ethical and legal values important for a doctor. A graduate has the right to be employed as a junior doctor by an independent person licensed to practice medicine, join pedagogic and scientific work, study further for a doctorate degree or pass the full residency course and, after passing the unified state exam, work in their field, so that, according to the medical standards and traditions and ethical norms recognized in the country, they can serve with dignity the public health.
– One 
circle
 educational program – General Medicine
– One 
circle
 educational program- dentistry
– Doctorate – medicine
The faculty is distinguished by highly qualified academic staff and best quality of scientific, learning-clinical bases, where the students acquire medical education alongside renowned specialists, with the use of modern medicinal-diagnostic techniques and technology. DAUG works closely with leading European universities and scientific research facilities of Canada. The joint scientific journal is published – "INNOVATIVE MEDICINE AND BIOLOGY".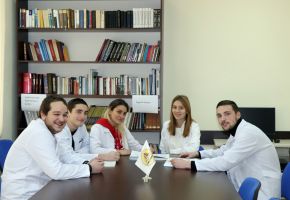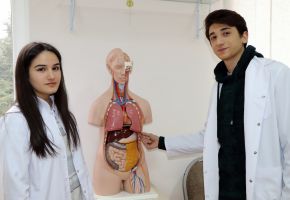 Teaching process and clinical skills development for students and residents is conducted in the following scientific and teaching centres:

DAUG Georgian-English Dental Clinic was established with the participation of British partners and from the very beginning held the position of the leader in the field of healthcare in Georgia. In the multi-profile clinic equipped with the latest equipment and modern technologies, the university students' learning process, practical training of the residents and scientific studies of doctoral students are underway.